The number of tourists visiting the Amsterdam region will grow from 17 million in 2015 to 32 million in 2034 (Source WTO)
International tourists are getting more and more experienced and will increasingly demand higher quality of storytelling and  guest experiences.
In Amsterdam however, the quality of the guest experience is being destroyed by overcrowding of the down-town area of Amsterdam and the long waiting lines at museums & attractions.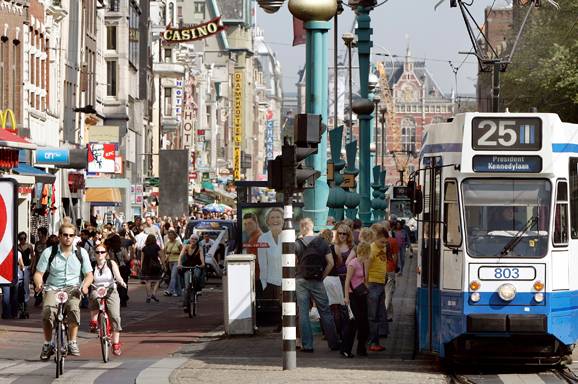 Overcrowded Amsterdam.
At the same time, the growing international tourist market will demand a minimum increase of 35 % in the visitors capacity of high quality Dutch Icon Experiences in the years to come.
The stop on building new hotels in down-town Amsterdam will create a demand for at least 12.000 new hotel rooms  in the coming years… outside the city center.
HollandWorld™ , next to Schiphol Airport, is earmarked as a location for 4000 new hotel rooms and will be designed to function as a "Second Gate" for Amsterdam.
It will absorb a part of the additional flow of tourists, as it expects 4 million unique visitors per year, including 2 million international tourists, from April 2023 onward.
HollandWorld™ will be a non-gated theme park presenting  an edutainment show case  of the top Dutch economic & cultural sectors. It will improve the quality of the story telling and  the experience of Destination Holland for all tourists visiting the Amsterdam region.
The Resort HollandWorld™ will consist of five Dutch Destination Icon Experiences, which will be fully integrated with Dutch Design & Local Artisan Boutiques, International  Retail Brand Experiences, Virtual Museums, Indoor & Outdoor Rides, Indoor Water Park, (Dinner) Shows , Bars & Restaurants, Casino , 4.000 Hotel Rooms , 200 themed holiday homes and 500 Apartments for hospitality trainees of Holland World Academy.
The total investment is € 975 million, with a planned opening of phase 1 in April 2023.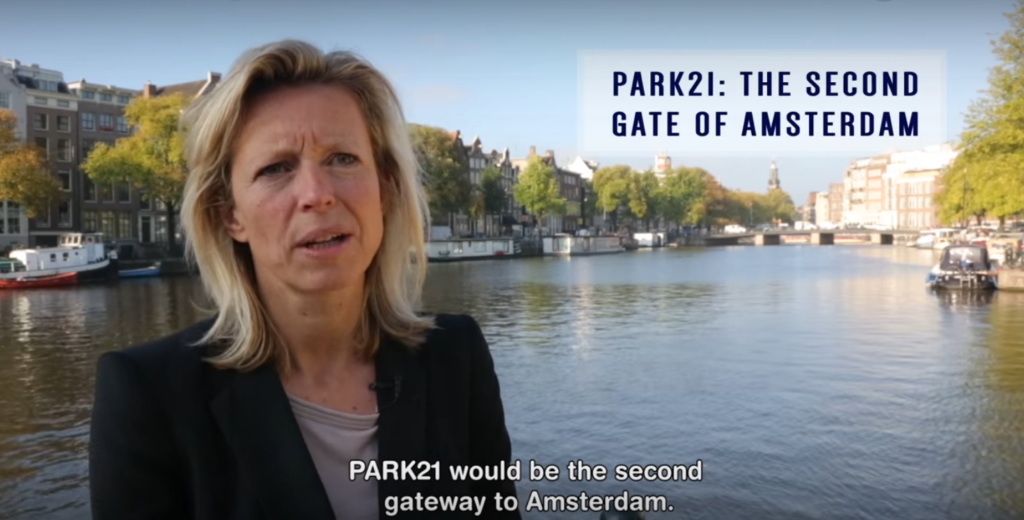 HollandWorld/Park 21 Interview with Kajsa Ollongren, Ex-Deputy Mayor and Alderman to the City of Amsterdam and currently vice-premier of the Netherlands         
HollandWorld™ is not a 100 % alternative for a visit to historic down-town Amsterdam.
All international tourists come to Amsterdam with the intention to experience The Original!
HollandWorld™ will be positioned as an alternative visit on Day 2. Instead of spending a second day at overcrowded down town locations with long waiting lines and low quality experiences…visit HollandWorld™, A Taste of the Netherlands!
The key to success will be the "one stop/one shop" principle, in combination with state of the art attraction technology.
This is how HollandWorld™, as a second gate, will reduce the dwell time of a significant number of tourists in down-town Amsterdam.
HollandWorld™ could function as a pilot project for other classic European cities that require extra capacity for Destination Icon Experiences with Second Gates, such as VeniceWorld, FlorenceWorld, BarcelonaWorld, etc.
The creative concept of HollandWorld™ is produced by IDS and is the intellectual property of HollandWorld BV as registered© at BBIE in Luxembourg.
International Destinations Strategy.